We All Live in Bhopal
WALiB=We All Live in Bhopal
Commemorating 30 years of the Carbide Disaster
We All Live in Bhopal because all over the world we are all exposed to industrial pollution and are at risk for accidental exposure to lethal and toxic doses of industrial chemicals.
In the USA alone, there are 473 chemical plants that put over 100,000 people at risk, 89 chemical plants put over 1 million people at risk, and 4.6 million children go to school within one mile of a high risk chemical facility.
A very recent example, is the Freedom Institute Elk River Spill in January 2014. Ten thousand gallons of 4-methylcyclohexanemethanol were spilled just upstream from the drinking water treatment plant serving 300,000 people near Charleston, West Virgina. You can read more about it here: We All Live in Bhopal, West Virginia.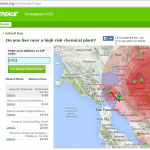 If you're curious about your own risks you can plug your address or zip code into this map to see how close you are to a high risk chemical facility. This vulnerability zones are determined by the plant owner based on the types and quantities of chemicals in use, the local topography and weather patterns. The Environmental Protection Agency requires chemical companies to report this data every 5 years in their risk management plans.
The 1984 Union Carbide Gas Disaster in Bhopal is considered the worst industrial tragedy in history. The catastrophe continues today with contaminated groundwater and soil surrounding the abandoned factory. A survey of the area suggests children born in the contaminated areas are more likely to have congenital birth defects and neurological damage than the average child in India.
Dr. Jayshree Chander volunteered as a physician serving the survivors of the Disaster for about a year 1997-1998. She has witnessed first hand the human health impact of corporate negligence and government collusion, which are finally a product of our individual and collective priorities. It is up to us to demand the implementation and enforcement of uniform global environmental and industrial safety standards, as well as corporate accountability and government responsibility to protect people and ecology. Restoring justice in Bhopal is a preventive measure to ensure our own safety as corporations all over the world follow how the ongoing disaster in Bhopal is handled.
On the occasion of the 30th anniversary, Jayshree wrote a poem for survivors of disasters all over the world. In response to many requests the poem has been posted here.
The Union Carbide Gas Disaster offers a lens through which to bring into focus the widespread ecological and humanitarian injuries resulting from our global community's prioritization of profit over environmental and human safety. We must honor the interconnectedness of all systems and beings, and the responsibility all agents bear to promote the accountability of the corporations and governments from which they benefit. Some concrete actions to take were presented at WALiB 2014. So, whether you were able to attend in person or not, you can still participate and take action now. The Ready, Steady, Go! button will take you to the action items page.
Thank you to everyone who submitted art for the commemorative events! For those who missed it while it was on exhibit, you can stil see it here. If you are interested in purchasing the art, please contact me and I'll connect you to the artist. Have a look:
For anyone interested in viewing the talk that toured the Bay Area last Fall is now available for viewing on Public Access Television in Berkeley
7/03/2015 8:00am
7/10/2015 1:00pm
7/17/2015 6:00am
7/24/2015 8:00am
on B-TV Channels 28 on Comcast Cable in Berkeley, and on Channel 99 via AT&T U-Verse.
and also on YouTube:

Events Endorsed by:
The Pesticide Action Network-North America
University of California School of Public Health
Center for Environmental Health
International Campaign for Justice in Bhopal (ICJB)-North America
Greenpeace
Association for India's Development
Institute for South Asian Studies
Berkeley Community Media
Labor Video Project San Francisco
Physicians for Social Responsibility-Bay Area
Health Care Without Harm
Global Exchange
International Development Exchange
Alliance of South Asians Taking Action
Maquiladora Health & Safety Support Network